Outside-of-the-box STEM learning

What is a Rube Goldberg Machine?
Rube Goldberg Machines are silly, complicated, and wacky inventions that perform a simple task like flipping a switch or pouring a bowl of cereal.
Learning isn't a straight line, and the Rube Goldberg Machine iBlock is an exciting way to teach students everything from important STEM concepts to things like problem-solving and perseverance.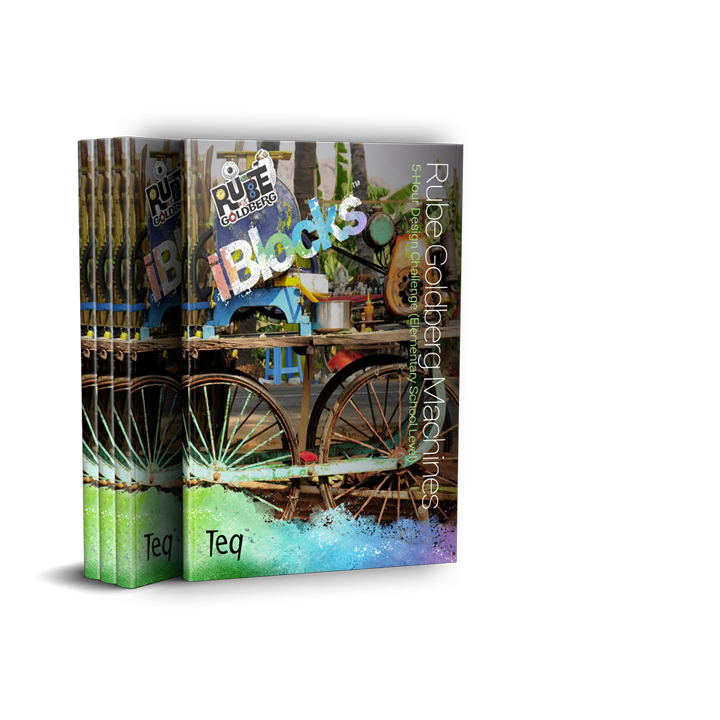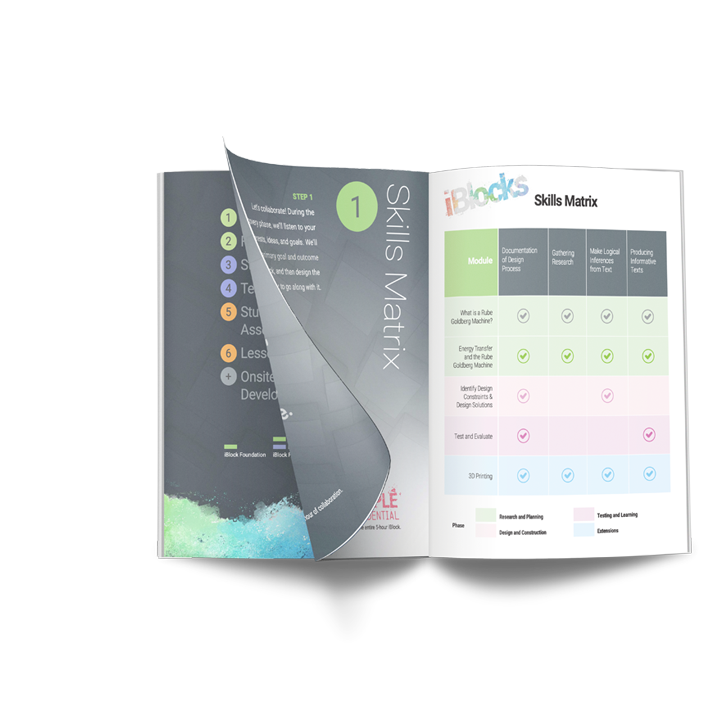 Why purchase a Rube Goldberg Machine iBlock?
A Rube Goldberg Machine iBlock helps you get from Point A to Point B with your invention. You'll have everything you need to get going, from the learning content, consumables, and materials you'll use to build your machine, to admission in the official contest.
Learn about the hands-on, skills-building, problem-solving fun that is building a Rube Goldberg Machine.
The iBlock learning content is a great way to support the creation of your machine, and all of the investigation, invention, and innovation that go along with it.
The iBlock guides your students through the Engineering Design Process, first building context and understanding around Rube Goldberg, simple machines, and how they come together in a Rube Goldberg Machine. Then, the content leads students through the planning, design, and construction of their machine. Finally, they'll test and evaluate their machine, learning the importance of refining, remixing, and redesigning.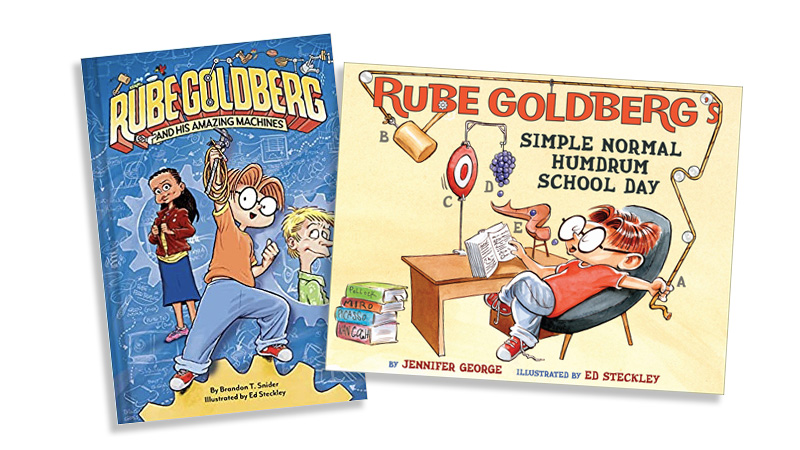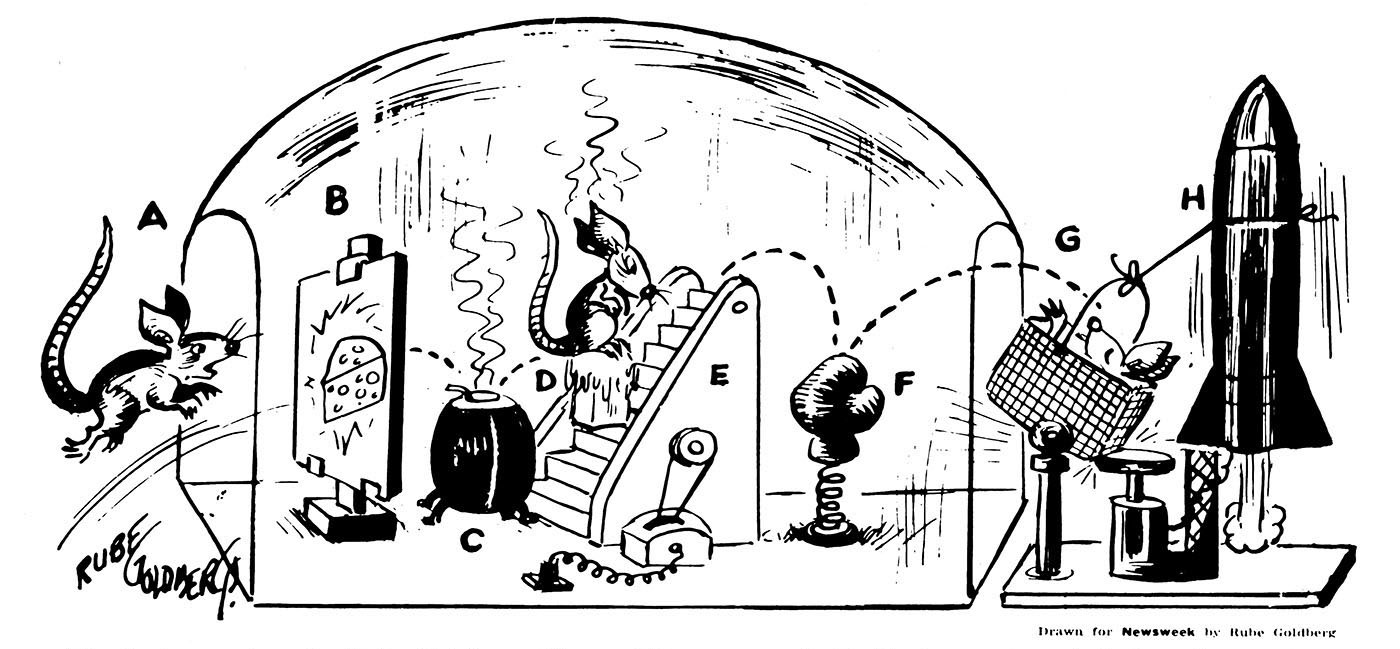 Every year Rube Goldberg Inc. hosts national competitions where schools can enter their Rube Goldberg Machines and Cartoon Creations! You can register as a Host or a Team Leader and compete with nearby schools in regional contests. Then (you guessed it!) the regional winners can go on to compete in national Rube Goldberg contests.
Check out https://www.rubegoldberg.org/ for more information about the man, the machines, and of course, the annual contests.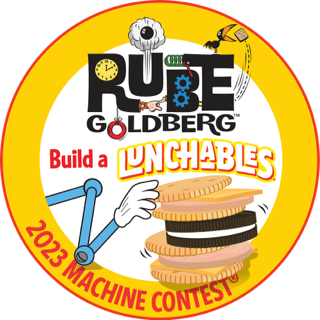 The Rube Goldberg Machine Contest®
BUILD your working Rube Goldberg Machine that completes this year's task. Film it and enter the contest. All ages & FREE!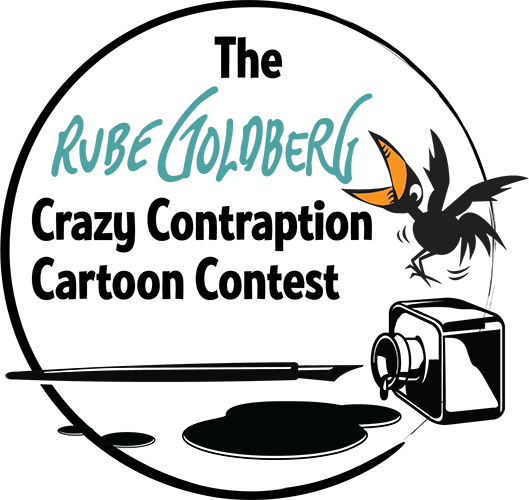 DRAW your own Rube Goldberg invention cartoon for a chance to win at the Reuben Awards, the highest honor for cartoonists, named after Rube.
Want to see what it's all about?
In our sample Rube Goldberg iBlock, students dive into STEM content as they experience the engineering design process first-hand. Their work culminates in the creation of their own chain reaction machine that pulls together their research, guides them through the design process, and fosters important skills like critical thinking and problem-solving.